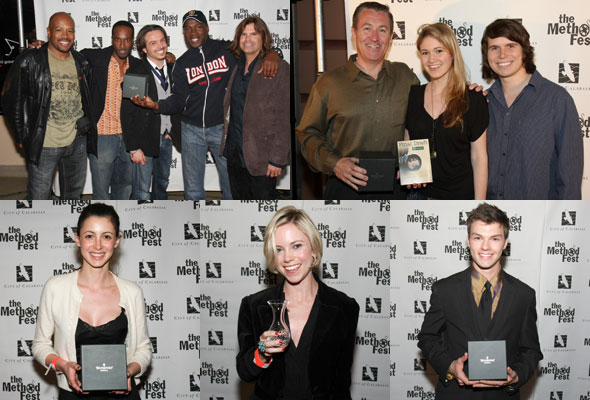 Top-left: The cast of "Tic" won the SAG Indie Award for Best Ensemble Cast and the Audience Award for Best Feature Film. (l-r) Gary Mcdonald, Adriohn Richardson, Daniele Favilli, Howard Antony and director/writer/producer Keith Palmer. Top-right: "Urfrenz," a realistic drama about a group of teenage friends and the dangers of social networking sites won the City of Calabasas Award for Best Feature Film. Lily Holleman won Best Actress, Najarra Townsend won Best Supporting Actress (l-r) Jeff Phillips (director), Jana Winternitz (producer), Michael Kelly (co-star). Bottom-left: French actress, Julie Dray, won the Maverick Award for Best Acting in a Low Budget Film for her work in "Do Elephants Pray?" Bottom-center: Lily Hollmen, Best Actress for "UrFrenz." Lily also won the Rising Star of the Year Award from the Fest. Bottom-right: Nathan Halliday won Best Supporting Actor Award for "Desert Son."
2010 Method Fest presented a lineup of great films, shorts

Synopsis for films, then shorts, are listed in alphabetical order below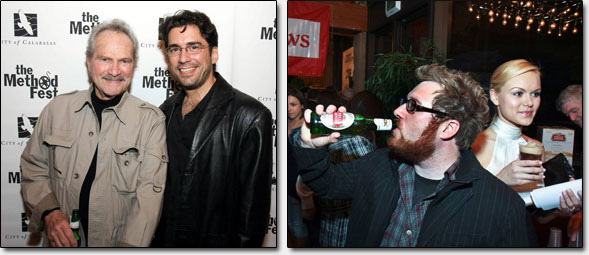 Steven Peros, right in left photo, writer/director/producer of Footprints, which will make its West Coast debut at the 2010 Method Fest, poses with cast member H. M. Wynant. At right, Justin Monroe, director of The Rock'n'Roll Dreams of Duncan Christopher, savors a Stella Artois at the Feb. 25 Preview Party.
FILMS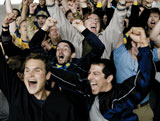 FAIRPLAY IS OVER
GERMANY, 118 MIN, USA premiere

Director: Carsten Ludwig, Jan-Christoph Glasser
Producer: Manuel Bickenbach, Alexander Bickenback, Jon Handschin
Writer: Carsten Ludwig, Jan-Christoph Glasser
Cast: Fabian Hinrichs, Christoph Bach , Maxim Mehmet, Melika Foroutan, Fahri Ogün Yardim, Christian Ahlers

For six young men, who could hardly be more different from one another, the fan club of the Eintracht Braunschweig football club is the centre of their life and their friendship. 66/67 is the name of their club as well as the year in which Eintracht Braunschweig won the German Championship.
---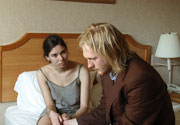 THE BEGINNER
USA, 94 MIN, WORLD PREMIERE
(IMDB & Trailer | Facebook)
Director: Benjamin Coccio
Producer: Benjamin Coccio
Writer: Benjamin Coccio
Cast: Cal Robertson, Sarah Vannel, Ana Kayne, Damien Langan
Carter never left his sleepy, suburban, NYC commuter-community after finishing High School. When his friends finish college and return home for a brief visit before starting their adult lives, he is spurred to action. He cashes in his unused college fund, packs a suitcase, and leaves home determined but without direction.
---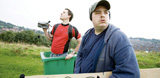 BIG THINGS
UNITED KINGDOM, 84 MIN, USA PREMIERE
Director: Mark Devenport
Producer: Luke Dennis
Writer: Mark Davenport
Cast: Tony Claassen,
Richard, bored of his mundane existence as a cycle courier, attempts to make his film 'A Distance Too Far' in a bid to escape to a better life. Driven by the belief that it will propel him, his friends and his girlfriend to fame and fortune, and the fear of ending up like his family, the completion of his 'masterpiece' becomes the sole focus of Richard's life.
---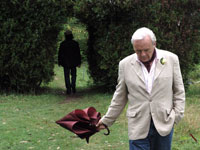 THE CITY OF YOUR FINAL DESTINATION
UNITED KINGDOM, 104 MIN, LOS ANGELES PREMIERE
Director: James Ivory
Producer: Paul Bradley, Pierre proner
Writer: Ruth Prawer Jhabvala (based on the novel by Peter Cameron)
Cast: Anthony Hopkins, Omar Metwally, Laura Linney, Charlotte Gainsbourg
28-year-old Kansas University doctoral student Omar Razaghi, has won a grant to write a biography of Latin American writer Jules Gund. Omar must get through to three people who were close to Gund - his brother, widow, and younger mistress - so he can get authorization to write the biography.
---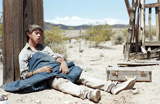 DESERT SON
USA, 92 MIN, WORLD PREMIERE
Director: James Mann, Brandon Nicholas
Producer: James Mann
Writer: James Mann
Cast: Erica Curtis, John Bain, Nathan Halliday
Phillip is abandoned in the desert by his step father. Days later he is found unconscious by Lucy and Jack, two orphans who live in an abandoned mining town in the middle of nowhere. They bring Phillip back to health and quickly initiate him into their dangerous lifestyle.
---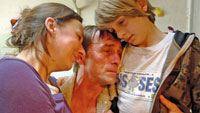 THE DISPENSABLES
GERMANY, 110 MIN, WORLD PREMIERE
Director: Andreas Arnstedt
Producer: Andreas Arnstedt
Writer: Andreas Arnstedt
Cast:
Jacob (11) tries to hide the suicide of his father because he is afraid to have to live in an orphanage.
---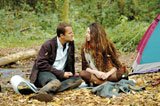 DO ELEPHANTS PRAY?
UNITED KINDOM, 106 MIN, WORLD PREMIERE
(Website)
Director: Paul Hills
Producer: Paul Hills, Jonnie Hurn
Writer: Jonnie Hurn
Cast: Jonnie Hurn, Julie Dray, Marc Warren, Rosie Feliner, Grace Vallorani, John Last, Jean-Baptiste Puech
Callum Cutter (Jonnie Hurn), fastidious 30something head of his own failing advertising company struggles to find meaning in the soulless world he is shackled as he faces the challenge of selling the unsellable product. His life needs to change and it does so in the shape of Malika (Julie Dray) a stunning free-spirited French woman unbound by the conventions or responsibilities of the world. Do Elephants Pray?" is an ethereal drama that baits the spirit and demands answers to questions that may or may not exist.
---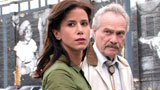 FOOTPRINTS
USA, 80 MIN, WEST COAST PREMIERE
(Trailer | Website)
Director: Steven Peros
Producer: Steven Peros, John Peros
Writer: Steven Peros
Cast: Sybil Temtchine, H. M. Wynant, Pippa Scott, John Brickner, Catherine Bruhier, Charley Rossman, Riley Weston, R. J. Cantu, Joe Roseto, Kirk Bovill, Jim Braswell
From award-winning writer Steven Peros, author of the play and screenplay for Lionsgate's 2002 The Cat's Meow (directed by Peter Bogdanovich, starring Kirsten Dunst) comes this haunting, hopeful, and unforgettable mystery - A young woman's journey of discovery on Hollywood Boulevard in one day, from sunrise to sunset.
---

THE GOOD HEART
ICELAND/FRANCE/DENMARK/GERMANY, 95 MINUTES, LOS ANGELES PREMIERE
Director: Dagur Kari
Producer: Skuli Fr. Malmquist, Thor Sigurjonsson
Writer: Dagur Kari
Cast: Brian Cox, Paul Dano, Damian Young, Stephanie Szostak, Clark Middleton
Unapologetically oddball from start to finish, The Good Heart casts Brian Cox as Jacques - an almost impossibly surly bartender who forges a tentative friendship with a meek homeless kid (Paul Dano's Lucas) after suffering his fifth coronary.
---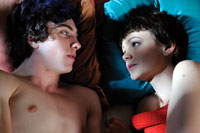 THE GREATEST
USA, 98 MIN, LOS ANGELES PREMIERE
Director Shana Feste
Producer: Lynette Howell, Beau St. Clair
Writer: Shana Feste
Cast: Pierce Brosnan, Susan Sarandon, Carey Mulligan, Johnny Simmons, Aaron Johnson, Zoë Kravitz
A drama centered around a troubled teenage girl and a family that is trying to get over the loss of their son.
---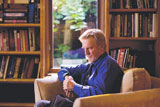 HANDSOME HARRY
USA, 95 MIN, LA PREMIERE
Director: Bette Gordon
Producer: Jamin O'Brien
Writer: Nicholas Proferes
Cast: James Sheridan, Steve Buscemi, Aidan Quinn, John Savage, Maryann Maybery
A phone call on his 52nd birthday sets an ex-Navy man on a search for absolution as he confronts a mysterious past betrayal.
---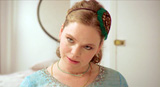 HOMEWRECKER
USA, 88 MIN
Director: Brad Barnes, Todd Barnes
Producer: Brad Barnes, Todd Barnes
Writer: Brad Barnes, Todd Barnes, Sophie Goodhart
Cast: Anslem Richardson, Ana Reeder, Stephen Rannazzisi, Cesar De Leon, Mary Beth Peil, Michelle Krusiec
Mike is a locksmith. He's also a prisoner on work release, but you wouldn't know it. He's just trying to focus on his house calls and reconcile with his ex-girlfriend—until Margo hijacks his day.
---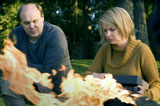 THE HOUSE OF BRANCHING LOVE
FINLAND, 102 MIN, USA PREMIERE
Director: Mika Kaurismäki
Producer: Mika Kaurismäki
Writer: Petri Karra (novel), Mika Kaurismäki, Sami Keski-Vähäl
Cast: Elina Knihtilä, Hannu-Pekka Björkman, Antti Reini, Anna Easteden, Tommi Eronen, Kati Outinen, Irina Björklund
A sort of "Divorce Finnish Style," Mika Kaurismäki's rambunctious comedy, The House of Branching Love , recounts the breakup of a thirtysomething professional couple – Juhani, a family therapist, and his wife, Tuula, a successful business trainer.
---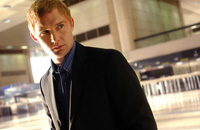 KREWS
USA, 105 MIN, LOS ANGELES PREMIERE
(Website & Trailer | Facebook)
Director: Hilbert Hakim
Producer: Paul O. Davis, Hilbert Hakim, Christopher Hempstead, Matt McCoy, Scott Hakim
Writer: Joshua Leibner
Cast: Brian Geraghty, Jonathan Cake, Faune Chambers, Sam Jones III, C. Malik Whitfield
A botched car-jacking forces two white-collar criminals to take refuge in the home of the thugs that accosted them. Over the course of one explosive, unpredictable night, worlds collide, fortunes shift, lives are cast aside and the most unsuspecting of heroes walks away with a multimillion dollar score.
---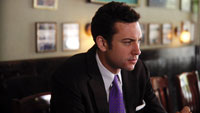 LAID OFF
USA, 92 MIN, WEST COAST PREMIERE
Director: John Launchi
Producer: Justin Ryan, Justin Ryan, Shawn Rogers
Writer: John Launchi, Michael Ryan
Cast: C.J. Moebius, Michael Ryan, Jennifer Bartels, Andree Vermuelen
A disgruntled recent graduate with a mundane office job and a difficult girlfriend, is torn between dealing with the pressures of growing up and hanging on to his irresponsible glory days. Upon getting laid off from his job and dumped by his girlfriend, Mike, influenced by his less-than-motivated best friend, Jimmy decides to use his severance package to fund one last summer of freedom.
---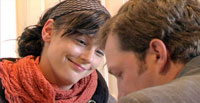 LEFTY
USA, 87 Minutes, West Coast Premiere
(Trailer | Website)

Director: Todd Looby
Producer: Todd Looby
Writer: Todd Looby, Thomas Madden
Cast: Thomas Madden, Carrie Norris, Bill Phelan, Cedric Young, MikeHoulihan, Dan Antonucci
Named among the "Top 10 movies of 2009, through August" by the Chicago Tribune's Metromix, LEFTY follows uninsured artist, Danny Malone (Thomas Madden), and committed Marine, Tommy "Fudd" Phelan as they return to the insanity of their Irish-Catholic South Side Chicago neighborhood with unspoken issues of their own.
---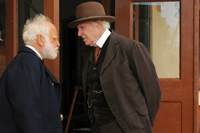 THE LIGHTKEEPERS
USA, 96 MIN
Director: Daniel Adams
Producer: Penelope L. Foster, Larry Frenzel
Writer: Daniel Adams
Cast: Richard Dreyfuss, Blythe Danner, Bruce Dern, Tom Wisdom, Mamie Gummer, Julie Harris
Set in the year 1912 on Cape Cod, a lighthouse keeper who has disavowed any association with females, must deal with the appearance of two attractive women who move into a nearby cottage for the summer.
---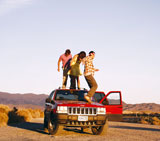 THE LONELIEST ROAD IN AMERICA
USA, 95 MIN, WORLD PREMIERE
(Website | Trailer)
Director: Mardana Mayginnes
Producer: Corrin Jade Rueger
Writer: Mardana Mayginnes
Cast: Colin Michael Day, Chris Hayes, Abby Leigh, Jennifer Deveraux, Edurne Ganem
Jamie is disillusioned with a dead-end job and a suffocating relationship with his girlfriend. On a
quest for enlightenment, he takes a road trip from Denver to LA with friends Matt and Ashley.
Along highway 50 in Nevada, " The Loneliest Road in America" they encounter the ravages of
the mining industry that has left skeletons of once-prosperous towns in its wake. Against this
backdrop, Jamie confronts the recognition that freedom and exploitation are inextricably linked
and that his own personal relationships have followed the same road.
---

LOOKING FOR ERIC
UNITED KINGDOM, 116 MIN
Director: Ken Loach
Producer: Rebecca O'Brien
Writer: Paul Laverty
Cast: Steve Evets, Eric Cantona, Stephanie Bishop, Gerard Kearns, Stefan Gumbs, Lucy-Jo Hudson, John Henshaw
The plot revolves around a football fanatic postman (Evets) whose life is descending into crisis. Looking after his granddaughter is bringing him into contact with his ex-wife, and his stepson is hoarding a gun for a local gangster. At his weakest moments, when he considers suicide, his hallucinations bring forth visits from his footballing hero, the famously philosophical Eric Cantona.
---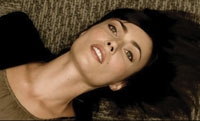 MERCY
USA, 87 min
Director: Patrick Hoelck
Producer: Scott Caan, Vince Palomino, Phil Parmet
Writer: Scott Cahn
Cast: James Caan, Scott Caan, Whitney Able, Bre Blair, John Boyd, Dorian Brown, Wendy Glenn
A young novelist tries to write about love, but realizes he will first need some real-life experience before taking on the subject.
---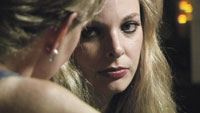 NIGHTBEATS
USA, 89:37 MIN, WORLD PREMIERE
(Website)
Director: Mike Carroll
Producer: Mike Carroll, Bonnie Bennett
Writer: Mike Carroll,
Cast: Bonnie Bennett
A contemporary noir set entirely at night Nightbeats is an homage to the classic noirs of the 1940's, though told as a contemporary drama, not a gumshoe satire, Nightbeats follow the lives of five people over four nights. Over these nights there are a series of deaths, suicides at first glance. Or are they?
---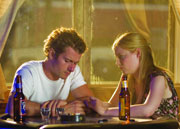 NONAMES
USA, 108 MIN, U.S. PREMIERE
(Website | Facebook)
Director: Kathy Lindboe
Producer: Kathy Lindboe, Robin van Ert
Writer: Kathy Lindboe
Cast: James Badge Dale, Gillian Jacobs, Barry Corbin
Inspired by true events, NONAMES follows Kevin and his family of friends as they struggle within the confines of a small town. After his mother's death, Kevin decides to make a life for himself in his childhood home in spite of his father's decision to move. In the wake of tragedy, Kevin must end his extended adolescence or lose the things he holds most dear. Haunted by unsettled scores, it becomes clear that he must leave the town he loves in order to save himself from it. A new beginning is only a bus ride away.
---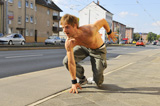 PARKOUR
GERMANY, 92 MIN
Director: Marc Rensing
Producer: Rudiger Heinze, Stefan Sporbert
Writer: Marc Rensing, Rudiger Heinze
Cast: Christoph Letkowski, Nora von Waldstatten, Marlon Kittel, Arved Birnbaum, Constantin von Jascheroff, Georg Friedrich
Parkour is Marc Rensing's debut drama about a young man and his group of friends in an unnamed industrial town in Germany. The film is a captivating story of friendship, love, and jealousy and deals with Parkour, the physical discipline of training in which the traceur has to overcome obstacles within his or her path.
---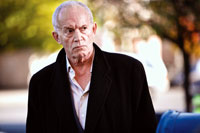 THE PENITENT MAN
USA, 92 MIN, WORLD PREMIERE
(IMDB | Trailer | Facebook)
Director: Nicholas Gyeney
Producer: Nicholas Gyeney, David Ranney
Writer: Nicholas Gyeney
Cast: Lance Henriksen, Lathrop Walker, Andrew Keegan
The Penitent Man tells the story of psychologist Dr. Jason Pyatt, a man at a crossroads with the life he has chosen and the life he could have. When one of his clients - the mysterious Mr. Darnell - walks into his office and paints him a repentant tale of future economic and moral collapse, Jason's eyes are forever opened. With the help of his best friend Ovid, he embarks on a personal mission to change the course of his future, and possibly the world, forever.
---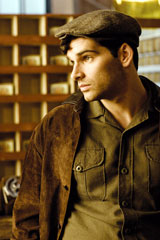 THE RED MACHINE
USA, 84 MIN, LOS ANGELES PREMIERE
(Website | Trailer)
Director: Stephanie Argy, Alec Boehm
Producer: Stephanie Argy, Alec Boehm, Ken Cortland
Writer: Stephanie Argy, Alec Boehm
Cast: Lee Perkins, Donal Thoms-Cappello, Meg Brogan, Maureen Byrnes
Washington, DC, 1935: At the height of the Great Depression, a charming and irrepressible young thief is forced to help an icy and mysterious United States Navy spy steal a brand new device that the Japanese military is using to encode its top-secret messages.
---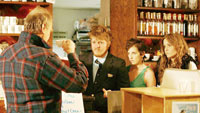 THE ROCK 'N' ROLL DREAMS OF DUNCAN CHRISTOPHER
USA, 94 MIN, WORLD PREMIERE
Director: Justin Monroe
Producer: Jack Roberts, Justin Monroe, Gillian Fritzsche, Ryan Fritzsche,
Writer: Jack Roberts
Cast: Jack Roberts, Marshall Bell, Peter Bedgood, Lizz Carter,
Just after his 30th birthday, awkward and mostly untalented gamer Duncan Christopher moves to the big city of Tulsa to test his rock and roll dreams and face his demons in the brutal underground world of karaoke.
---

SEDUCING CHARLIE BARKER
USA, 88:37 MIN, WORLD PREMIERE
Director: Amy Glazer
Producer: Lynn Webb
Writer: Theresa Rebeck
Cast: Daphne Zuniga, David Wilson Barnes, Heather Gordon
Dark satire of the Manhattan entertainment industry in which a gifted actor begins his fall from grace as he encounters a chameleon-like social climber.
---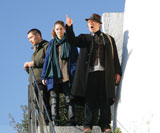 STATION OF THE FORGOTTEN
SPAIN, 90 MIN
(Website)
Director: Christian Molina, Sandra Serna
Producer: Ferran Monje, Marivi de Villanueva
Writer: Manolo Guerrero, Salvador Moré, Christian Molina
Cast: Fermi Reixach, Nilo Mur, Katia Klein, Francesc Garrido, Belen Fabra
Station of the Forgotten is a story that bridges the generation gap: a story about an old sailor and a young teenager brought together by fate. Together, joined by the old sailor's granddaughter and an urn containing his wife's ashes, they will journey back to the fishing town where the old man used to live.
---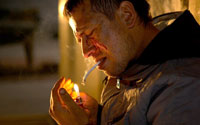 STRAYED
KAZAKHSTAN, 90 MIN, USA PREMIERE
(Website)
Director: Akan Satayev
Producer: Akan Satayev
Writer: Timur Zhaksylykov
Cast: Andrey Merzlikin, Tungyshbai Al-Tarazi, Aiganym Sadykova, Alma Rulas, Ilyas Sadyrov, Igor Gorshkov, Azamat Ilyasov
The main character, his wife and small son lose their way in the steppe and become stuck on a country road. As a result, they have to spend the night in their car. The following morning, the main character awakens alone, his wife and son having mysteriously disappeared.
---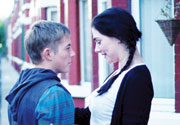 THE BE ALL AND END ALL
UNITED KINGDOM, 93 MIN, WORLD PREMIERE
Director: Bruce Webb
Producer: Bruce Webb
Writer: Steve Lewis, Tony Owen
Cast: Eugene Byrne, Josh Bolt, Connor McIntyre, Liza Tarbuck
At fifteen, Robbie has only one thing on his mind - losing his virginity. The problem is that he's in hospital with a fatal heart condition. And who has to overcome the odds and help him fulfill his final wish? His best friend Ziggy.
---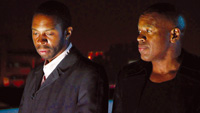 TIC
USA, 97 MIN, WORLD PREMIERE
(Website | Trailer | Facebook )
Director: Keith Parmer
Producer: Scott Anastasi, Brian Novak, Keith Parmer, Andy Hall
Writer: Keith Parmer
Cast: Lennie James, Treva Etienne, Gary McDonald, Tina Casciani, Daniele Favilli
Set in L.A. with flashbacks to '90s London, fate meets fortune head-on when small-time hoods Anton and Tyrone shoot for the big score by holding club owner C-Note and his girlfriend Chilli hostage for ransom. But time is running out for the captives and captors alike, as the past catches up with all of them and the clock ticks slowly toward the moment of truth.
---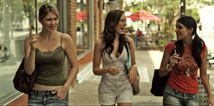 urFRENZ
USA, 89 MIN, LA PREMIERE
(Trailer)
Director: Jeff Phillips
Producer: Jana Winternitz
Writer: Jeff Phillips
Cast: Lily Holleman, Gayla Goehl, Najarra Townsend, CaroleAnne Johnson, Michael Robert Kelly, Bree Essrig, James Maslow
urFRENZ, written and directed by Jeff Phillips and produced by Jana Winternitz, is a realistic drama about the lives of teens, their families and the draw and discord of social networking sites.
---

WID WINNER & THE SLIPSTSREAM
USA, 50 MIN, WEST COAST PREMIERE
Director: Alex O. Gaynor
Producer: Alex O. Gaynor, Kerry Finlayson, Christa Hamilton
Writer: Alex O. Gaynor
Cast: James Sheldon, Alexander Wright, Erin Allin O'Reilly
'Wid Winner & the Slipstream' is a coming of age story of Wid Winner, an autoparts store worker whose life never lived up to his own expectations. After one particularly disenchanting day, Wid's store is robbed by a traveling scientist named Kenneth who is convinced he can build a time machine. Together, the two lonesome men embark on a cross-country roadtrip in search of glory, redemption, and a chance to not be forgotten.
---
SHORTS
(Listed via the program in which they will play at the Festival)


Program #1 - Playing the Hero

FRI 26, 5 pm, Regency 5, (TRT: 110:35 min)

The Sierra (28:00)
Dir. Alano Massi
Patrol (18:00) (Website)
Dir. John Patton Ford
Head in the Sand (14:42)
Dir. David Baldwin
Numb (22:23)
Dir. Erwann Marshall
Taking the Fall (12:30)
Dir. David M. Helman II
The Action Hero's Guide to Saving Lives (15:00)
Dir. Justin Lutsky
THE SIERRA
USA, 28 MIN, WORLD PREMIERE
Director: Alano Massi
Producer: Eileen Kennedy, Ericka Frick
Writer: Alano Massi
Cast: Alano Massi, Drew Taylor, Gregory Sporieder, Kalani Queypo, Monej Cruz, Sandy Danto, Scotty Ashby, Timothy V. Murphy
The air ain't all that's cold in the Sierra Nevada, especially just outside of nineteenth-century Virginia City... for this is where the lives of a Native American couple collide with a ruthless gang seeking revenge upon two brothers who interrupted their train robbery and escaped with the cash.
HEAD IN THE SAND
USA, 14:42 MIN, WORLD PREMIERE
Director: David Baldwin
Producer: David Baldwin
Writer: David Baldwin
Cast: Miles Fisher
Henry goes to war in Afghanistan. It's not at all what he imagined.
NUMB
USA, 22:23 MIN, WORLD PREMIERE
Director: Erwann Marshall
Producer: Amanda Marshall, Erwann Marshall, Brian Culp
Writer: Amanda Marshall, Erwann Marshall
Cast: Rhasaan Orange, Scottie Epstein, Shannon Lucio
While preparing for the biggest fight of his life, a mixed martial arts fighter comes to terms with what it means to be a father and a son.
TAKING THE FALL
USA, 12:00 MIN, WORLD PREMIERE
Director: David M. Helman
Producer: Matt Brailey
Writer: Chris Bryant
Cast: Mark Berry, Trey Rogers, Shamari Berkley, Sam Fisher, Naz Aslanian
A young comic book fan imagines his father as a superhero but wishes he would get a different job.
THE ACTION HERO'S GUIDE TO SAVING LIVES
USA, 15 min
Director: Justin Lutsky
Producer: Justin Lutsky, Clint Carmichael, Keegan Wilcox
Writer: Brett Simmons, Opie Cooper
Cast: Patrick Warburton, Brett Simmons, Sean Naughton, Andrew Bogart
When lives are on the line... When there's danger at every turn... When clichés run amuck... Sometimes the best thing to do is call Mulligan! Ace Mulligan!
---
Program #2 - Metamorphosis

FRI 26, 7:15 pm, Founders Hall, (TRT: 99:01 min)
Second screening: TUE, 3 pm, Founders Hall

The Butterfly Circus (20:00)
Dir. Joshua Weigel
Simulacrum (10:30)
Dir. Logan Brown
3 Faces of Evelyn (13:30)
Dir. Kamali Minter
Jitensha (Bicycle) (21:16)
Dir. Dean Yamada
Trapped (10:00)
Dir. James Takata

THE BUTTERFLY CIRCUS
USA, 20 MIN, WORLD PREMIERE
(Website)
Director: Joshua Weigel
Producer: Angie Alvarez, Joshua Weigel, Rebekah Weigel
Writer: Joshua Weigel, Rebekah Weigel
Cast: Doug Jones, Bob Yerkes, Connor Rosen, Eduardo Verastegui, Kirk Bovill
A limbless man in a carnival sideshow encounters an infamous circus showman and is inspired to hope against everything he has ever believed.
3 FACES OF EVELYN
USA, 13:30 MIN
Director: Kamali Minter
Producer: Kathryn J. Taylor, Stephanie M. Vaughn
Writer: Kathryn J. Taylor, Stephanie M. Vaughn
Cast: Brian Carpenter, Kathryn J. Taylor
A woman suffering from multiple personalities seeks therapy to help her discover who she voted for in the 2009 presidential election.
Jitensha (Bicycle)
JAPAN / USA, 21:26 MIN, WEST COAST PREMIERE
Director: Dean Yamada
Producer: Austin Flores, Jadon Gauthier, Paul Nethercott, Yu Shibuya
Writer: Yu Shibuya
Cast: Yugo Sasso, Masayuki Yui
"Jitensha" (or "Bicycle") is a story about Mamoru Amagaya, a young man struggling to find meaning in life.
---
Program #3 - Dangerous Liaisons

FRI 26, 9:15 pm, Founders Hall, (TRT: 95:49 min)
Second screening: TUE 30, 7:15 pm, Founders Hall

Guignol (22:00)

Dir. Dana Turken
Lost Paradise (9:49)
Dir. Oded Binnun, Mihal Brezis
Deep Red (Adom, Adom) (20:00)
Dir. Eddie Tapero
True Beauty This Night (10:00)
Dir. Peter Besson
Turn Around (34:00)
Dir. Prarthana Mohan
Champagne Supernova (14:00)
Dir. Fernando Jover

GUIGNOL
USA, 22 MIN, USA PREMIERE
Director: Dana Turken
Producer: Aaron Kovalchik, Bergen Swanson
Writer: Dana Turken
Cast: Clara Couturier, DeLane Matthews, James Babson, Kate Dearing
The line between love and violence is blurred when Renata, the magnetic doyenne of a Grand Guignol theater company, forces Mila, her disgruntled star, to participate in her own usurpation.

DEEP RED
ISRAEL, 19 MIN, USA PREMIERE
Director: Eddie Tapero
Producer: Shani Kotler
Writer: Eddie Tapero
Cast: Yedidya Vital, Sharon Alexander, Oshri Sahar
Gur and Yuval will stop at nothing to make enough money for a fresh start in Berlin. As they approach their goal, the tension is growing between the two, until an unexpected event causes Gur to question both their plan and their relationship.

TRUE BEAUTY THIS NIGHT
USA, 10 MIN
Director: Peter Besson
Producer: Stephen Sweeney
Writer: Peter Besson
Cast: Dustin Seavey, Meegan Michell,
Last night, Rhett Somers met the love of his life. Now all he has to do is convince her she's the one. Not an easy feat considering how they met...
TURN AROUND
USA, 34 MIN, WORLD PREMIERE
Director: Prarthana Mohan
Producer: Ashsley Zastrow, Prarthana Mohan
Writer: Prarthana Mohan
Cast: Kelly Ryan, David Stanford, Mckenzie Smith
A woman tries to reconcile society's expectations of her as a wife and mother with her secret desire to fulfill her exhibitionist fantasies, but soon finds herself weaving the tangled web of a double life.
CHAMPAGNE SUPERNOVA
SPAIN, 14 MIN, WEST COAST, PREMIERE
Director: Fernando Jover
Producer: Juan Carlos Pajares
Writer: Toti Magdalena
Cast: Assumpta Serna, David Villaraco
A mature lady has a shocking relationship with a younger man.
---
Program #4 - Nice Work If You Can Get It

SAT 27, 12 pm, Regency 5, (TRT: 99:30 min)

New Media (19:00)
Dir. J.J. Adler
The Bake Shop Ghost (16:30)
Dir. Lorette Bayle
Melting the Snowman (20:00)
Dir. Ora Yashar
All in Due Time (Tiempo al Tiempo) (12:00)
Dir. Tati Barrantes
Two into Three (Zwei Zu Dritt) (30:00)
Dir. Neelesha Barthel

NEW MEDIA
Director: J.J. Adler
Producer: J.J. Adler
Writer:
Cast:
THE BAKE SHOP GHOST
16:30, USA,
Director: Lorette Bayle
Producer: Brian Udovich, Lorette Bayle, Nicolas Emiliani
Writer: Bob Gibbons
Cast: Kathryn Joosten, Marianne Jean-Baptiste
In a haunted bake shop, a determined young woman struggles to find the perfect recipe to satisfy a hungry spirit. Based on a best-selling children's book, this film provides enchantment for all ages.
MELTING THE SNOWMAN
USA, 21:17 MIN, LA PREMIERE
Director: Ora Yashar
Producer: Christina Medina
Writer: Ora Yashar
Cast: Mekenna Melvin, Kevin Michael Walsh, Steve Howard
In the face of defeat, a young columnist, who has long been her father's golden child, must discover if she has the strength to give herself the permission to fail despite the consequences.
ALL IN DUE TIME (TIEMPO AL TIEMPO)
USA, 12 MIN, WORLD PREMIERE
Director: Tati Barrantes
Producer: Samina Akbari
Writer: Tati Barrantes
Cast: Jaime Tirelli, Arturo Castro, Caesar Salazar, Enzo Vincenzo
Jesus and Cisco work together as cooks in a New York City restaurant pursuing their shared dream of owning their own business. Suddenly caught between personal success and family obligation, Jesus must choose: will he lead the life he's always imagined or return home to his awaiting family?
TWO INTO THREE (ZWI ZU DRITT)
Director:
Producer:
Writer:
Cast:
---
Program #5 - Crime & Punishment

SAT 27, 5 pm, Founders Hall, (TRT: 92:08 min)
Second screening: SUN 28, 10 pm, Founders Hall

Path Lights (19:30)
Dir. Zachary Sluser
The Golden Rule (13:11)
Dir. Meredith Rose
Once Upon a Crime (10:22)
Dir. Lilli Birdsell
Forfeit of Grace (15:45)
Dir. Kane Senes
Clemency (18:00)
Dir. Joseph Albanese
Penance (20:00)
Dir. Ryan Gould

PATH LIGHTS
USA, 21:30 MIN, WEST COAST PREMIERE
(Website)
Director: Zachary Sluser
Producer: Jonathan Lynch, Matt Goldberg, Brian Morrow, Zachary Sluser
Writer: Zachary Sluser, Tom Drury
Cast: John Hawkes, Robin Weigert, Xander Berkeley, Sarah Utterback
Path Lights is a thought provoking, comedy-noire that puts a human spin on the tradition of detective hero films.
THE GOLDEN RULE
USA, 13 MIN
(Trailer and website)
Director: Meredith Rose
Producer: Meredith Rose
Writer: Thomas Heys
Cast: John T. Cogan, Skip Pipo
Two vehicles collide in the desert. The drivers are forced to ride together, but is either of them really who he appears to be?
ONCE UPON A CRIME
USA, 10:22 MIN, WORLD PREMIERE
Director: Lilli Birdsell
Producer: Jennifer Rau, John D. Hartfield, Lilli Birdsell
Writer: Lilli Birdsell
Cast: Lilli Birdsell, John D. Hartfield
'Once Upon a Crime' comically deconstructs the fairytale of Snow White by pulling the princess out of the story book and putting her up on the witness stand where she must defend and be held accountable for the story she's been telling for 152 years.
FORFEIT OF GRACE
USA, 15:45 MIN, WEST COAST PREMIERE
(Trailer)
Director: Kane Senes
Producer: Kane Senes
Writer: Kane Senes
Cast: Frederick Ponzlov, Bll Oberst Jr., Elle Labadie, Michael Schmidt, Sasha Carrera
When a man discovers a kidnapped girl in a secluded motel, he struggles to save her and find redemption for his violent past.
CLEMENCY
USA, 18:08 MIN
(Website)
Director: Joseph Albanese
Producer: Doug Thagard
Writer: Charlie Frazier, Chris Frazier, Joseph Albanese
Cast: Maury Morgan, Chris D'Annunzio, Mark Irvingsen, Gerald Brodin, Brittany Shaw
A sadistic killer takes a reporter on an emotional thrill ride she will never forget.
PENANCE
USA, 20:30, LA PREMIERE
(Trailer)
Director: Ryan Gould
Producer: Ryan Gould, Randall Ehrmann
Writer: Ryan Gould
Cast: Michael Cullen, Raymond McAnally, Khan Baykal
A story about a middle-aged, reclusive widower/owner of lawn company who's second chance at life turns tragic when he over exerts control in the budding relationship with his Autistic employee.
---
Program #6 - Matters of Life and Death

SUN 28, 11 am, Founders Hall, (TRT: 100:21 min)
Second screening: MON 29, 7:15 pm, Founders Hall

Life Lines (22:00)
Dir. James Evans
Das Baby (30:00)
Dir. Falco Jagau
Pop Switch (18:21)
Dir. Jason Goode
Passing On (21:15)
Passing On (21:15)
The Response (14:22)
Dir. Andrew J. Spieler
LIFE LINES
USA, 22 MIN
(Website)
Director: James Evans
Producer: James Evans, Brantley Aufill,
Writer: James Evans
Cast: Thomas Piper, Tate Evans, Tom Bartos, Renee Penegor, Nurit Monacelli, Jason Kravits
A man, a woman and a bottle of tequila walk into an office party. She ends up pregnant. He ends up in a coma. "Life Lines," like life, is a comedy surrounded by tragedy--with Thomas Piper (Denis Leary's "Merry F#%$in' Christmas"), Tate Evans ("Senor Nugget") and Jason Kravits ("The Practice").
DAS BABY
GERMANY, 31 MIN, USA PREMIERE
Director: Falco Jagau
Producer: Benedikt Boellhoff, Max Frauenknecht
Writer: Falco Jagau
Cast: Pippa Galli, Jochen Striebeck, Jochen Noch, Sarah Lavinia Schmidbauer
Four days after the birth of her son 18year old Nadine waits for her discharge from hospital. But an odd atmosphere is in the pediatrics ward that day. Nadine notices too late that her baby vanished without a trace.
PASSING ON
USA, 21:15 MIN, WORLD PREMIERE
(Trailer)
Director: Cameron Clark
Producer: Stephanie Altishin
Writer: Austin Zumbro
Cast: Jim Cathcart, Sheila Vand, Wiley Naman Strasser
Just when Colin thinks his post-college life couldn't get any worse, his grandma shows up in the mail. Her ashes that is. Now, with the help of his party-girl sister and her enthusiastically stoned roommate, he must make it to the beach to give her a proper sendoff.
THE RESPONSE
USA, 14:22 MIN, LA PREMIERE
Director: Andrew Spieler
Producer: Marina Stabile
Writer: Andrew Spieler, Marina Stabile, Julia Norwich
Cast: Valarie Pettyford, Stephen Snedden, Kami Jones, Kiev Rhyse, Alex Castillo
In the early hours of the 1992 LA Riots, Shauna, a seasoned African-American paramedic is forced to confront an incensed and dangerous mob after her idealistic white partner, Rick, violates protocol in hopes of saving a severely wounded child.
---
Program #7 - Sibling Sacrifices

SUN 28, 1 pm, Founders Hall, (TRT: 91:56 min)
Second screening: MON 29, 5 pm, Founders Hall

The Fighting Kind (20:20)
Dir. Nils Taylor
Quality Time (15:00)
Dir. Colin Marshall
Sores & Sirin (22:00)
Dir. Katrin Gebbe
Words Unspoken (17:36)
Dir. Renee O'Connor
Tinglewood (17:40)
Dir. Alexander von Hoffman

THE FIGHTING KIND
USA, 19:45 MIN, LA PREMIERE
Director: Nils Taylor
Producer: Rachel Pearlman
Writer: Nils Taylor
Cast: Wayne Roberts , Mekenna Melvin, Sabrina Miller, Kevin Flood
Davin has been estranged from his family for give years. He finally returns home in desperate need of financial help from his sister, his only living relative. During what is supposed to be a quick visit, he learns that his sister may need more help from him than he needs from her.
QUALITY TIME
USA, 15 MIN
(Trailer | Website)
Director: Colin Marshall
Producer: Joshua Greenberg
Writer: Colin Marshall
Cast: David Alan Basche, Eric Jensen, Charlie Tahan, Wass Stevens
Estranged brothers, road rage, fast food and death...all the makings of a merry Christmas.
SORES & SIRIN
Director:
Producer:
Writer:
Cast:
WORDS UNSPOKEN
USA, 17:36 MIN, WORLD PREMIERE
Director: Renee O'Connor
Producer: Brooke Anderson, Dawn Higginbotham, Renee O'Connor
Writer: Renee O'Connor
Cast: Jed Sura, Randy Crowder, Tembi Locke
A man and his estranged sister battle against each other, their Father, and ultimately their self, as they look back on their childhood trauma, seeking forgiveness and ultimate freedom.
TINGLEWOOD
AUSTRALIA, 17:40 MIN, USA PREMIERE
(Trailer | Website)
Director: Alexander von Hoffman
Producer: Alexander von Hoffman, Anthony Webb
Writer: Alexander von Hoffman, Anthony Webb
Cast: Nathan Coenen, Paris Graham, Anna head, Mark Jones
When a family sets up camp deep in the Tinglewood forest, the last thing they expect is company and a violent struggle to survive the night.
---
Program #8 - Honor Thy Parents

SUN 28, 6 pm, Founders Hall, (TRT: 107:00 min)
Second screening: MON 29, 3 pm, Founders Hall

My Mom Smokes Weed (17:00)
Dir. J.J. Adler
Baba (21:00)
Dir. Zuzanna Kirchnerová-Spidlova
Abuelo (15:00)
Dir. Mary Ann Kellogg
The Godmother (15:00)
Dir. Lior Chefetz
Lucky Lotus (16:00)
Dir. Ken Ochiai
Fiasco (18:00)
Dir. Nadia Hamzeh
MY MOM SMOKES WEED
Director:
Producer:
Writer:
Cast:
ABUELO
USA, 15 MIN
(Trailer | Website)
Director: Mary Ann Kellogg
Producer: Laurie Seidman
Writer: Doug Cooney
Cast: Britt Flatmo, Castulo Guerra, Esther Segovia "La Gotan", Greg Baglia
After the loss of her mother, Emily, 12, has a bleak outlook on life that only worsens when her grandfather from Argentina arrives for an extended stay. To their mutual surprise, she and her abuelo discover that dance provides a common language.
THE GODMOTHER
USA, 15 MIN, WEST COAST PREMIERE
Director: Lior Chefetz
Producer: Andres Rodriguez Franco, Ian Dickinson
Writer: Ben Fast
Cast: Ron Yuan, Elizabeth Bond, Camden Toy, Georja Umano
Rosella Wu is convinced by her mother to kill her mobster husband Danny. But when Danny quits the mob and cleans up his act, she tries to cancel the hit. Except she's too late - the hitman crashes into the house, guns blazing! Now Rosella must stop the hitman, prevent Danny from finding out it was her, and stand up to her over-bearing mother who still wants Danny dead!
FIASCO
USA, 18 MIN
Director: Nadia Hamzeh
Producers: George Dickson, Nadia Hamzeh, Branislav Tatalovic
Writer: Nadia Hamzeh
Cast: Chris Payne, Nadia Hamzeh, Navid Negahban, David Mate, Dominic Conti
A young Arab woman on the verge of realizing her American dream suddenly faces a life-altering test and has to make a risky decision.
---
Program #9 - That's What Friends Are For

SUN 28, 9:15 pm, Regency 5, (TRT: 102:52 min)

Dark Horse (28:00)
Dir. Marc Furmie
The Weekend (15:00)
Dir. Vanessa Knutsen
Short On Time (19:46)
Dir. Benjamin Mattingly
Milestone (8:33)
Dir. Julie Tortorici
Touch (10:58)
Dir. Jen McGowan
Loaf of Bread (16:00)
Dir. Eric Patton
What Friends Are For (8:00)
Dir. Sam Knee
DARK HORSE
Australia, 28 MIN
(Website | Trailer)
Director: Marc Furmie
Producer: Simon Ritch
Cast: Wahn Shuli, Alin Sumarwata
Minh Tran is a lonely taxi driver whose relationship with his wife has disintegrated following a miscarriage. One night his path crosses that of Isabella Fortino, a girl forced into prostitution by her boyfriend. Minh's show of kindness to Isabella leads to an unlikely connection as they lose themselves in each other's company and leave their troubled lives behind.
THE WEEKEND
USA, 15 MIN, WORLD PREMIERE
Director: Vanessa Knutsen
Producer: Vanessa Knutsen
Writer: Vanessa Knutsen

Recovering from a traumatic break-up, Olivia is on the verge of a nervous breakdown when her friend Maya flies in from New York for a visit. From one failed attempt to another, their weekend starts to feel more like a test of their friendship. Will they pass?
SHORT ON TIME
USA, 19 MIN, WORLD PREMIERE
Director: Benjamin Mattingly
Producer: Jevon Whetter
Writer: Benjamin Mattingly
Cast: Frances Bay, Karl Herlinger
When EDITH (92) takes a final journey from the hospital to a hospice, she finds an unlikely friend in HOWARD (34) the disenchanted orderly charged with delivering Edith to her destination.
MILESTONE
USA, 8:33 MIN,
Director: Julie Tortorici
Producer: Alicia Arinella
Writer: Julie Tortorici
Cast: Brian Patacca, Rebecca White
When tubs of ice cream, drinking with friends and sad movies don't get you past your heartbreak...it's time to pull out the big guns. Milestone is a short comedy with a big gun.
TOUCH
USA, 10:58 MIN, WEST COAST PREMIERE
Director: Jen McGowan
Producer: Emile Mocey-Hanton, Jamie Robinson, Phillip Lott, Jen McGowan
Writer: Colin Pink
Cast: Lily Knight, Rachel Kanouse
What happens when the most personal connection in your life occurs with a complete stranger? Touch.
LOAF OF BREAD
USA, 17 MIN, LA PREMIERE
Director: Eric Patton
Producer: Patrick Carr
Writer: Eric Patton
Cast: Justin Okin, David Trachtenberg, John Ruby, Alissa Anderegg
A young office worker has fallen into a mundane existence where his happiest moments are when office supplies are delivered. His friend, a schemer and dreamer, convinces Jack to join him in a life of crime to escape his meaningless life. Jack soon learns that happiness is a choice.
WHAT FRIENDS ARE FOR
USA, 8 MIN, WORLD PREMIERE
Director: Sam Knee
Producer: Ian Clark-Daugherty
Writer: Tyler Zelinsky
Cast: Mikandrew Perdaris, Zack Tennant, Maddie Johnson
When Chase visits his friend Trent in order to borrow a movie for his girlfriend, he stumbles upon Trent attempting to hang himself, and he must choose between helping his friend or making his girlfriend happy.
---
Program #10 - Cupid's Greatest Hits & Misses

MON 29, 9 pm, Regency 5, (TRT: 100:11 min)

Christopher Dispossessed (12:40)
Dir. Matthew Watts
Blue Boy (16:00)
Dir. Alex Jablonski
Mutually Assured Desire (6:00)
Dir. Andrew Hellesen
Open House (23:55)
Dir. David Kashkooli
Take My Wife (22:16)
Dir. Brett Carlson
Tender Roots (4:00)
Dir. Matt Brailey
Some Boys Don't Leave (16:00)
Dir. Maggie Kiley
CHRISTOPHER DISPOSSESSED
USA, 12:40 MIN
Director: Matthew Watts
Producer: Matthew Watts, Iris Jyoung
Writer: Amy J. Higgins
Cast: Annika Paterson, Ross Partridge, Geoffrey Cantor
He's too late to stop the wedding, but not too late to stop the marriage.
BLUE BOY
USA, 16 MIN
Director: Alex Jablonski
Producer: David Nordstrom, Alex Jablonski
Writer: Alex Jablonski, Kevin Canty
Cast: Jordan Thompson, Simone Kessell
A teenage lifeguard finds himself alone with one of the objects of his affection and decides to try to act on his daydreams.
MUTUALLY ASSURED DESIRE
USA, 5:56 MIN, WORLD PREMIERE
Director: Andrew Hellesen
Producer: Andrew Hellesen
Writer: Andrew Hellesen
Cast: Cecily Ryan, Dan Trujillo
After a nuclear apocalypse, the last man and woman on earth must fulfill their biological duty. But there's one problem...
OPEN HOUSE
USA, 23:55 MIN, WEST COAST PREMIERE
Director: David Kashkooli
Producer: Anne Marie Coyne
Writer: David Kashkooli
Cast: Darby Stanchfield, Pete Chekvala
House on the market, Beth Dunne is getting organized to move when the doorbell rings: Daniel Berman's arrived late for the Open House. Turns out Daniel was Beth's high school boyfriend 15 years ago. Through this unexpected encounter, Beth and Daniel revisit their past and the choices they've made.
TAKE MY WIFE
USA, 22 MIN
(Trailer | Website)
Director: Brett Carlson
Producer: Brett Carlson, Chesley Heymsfield, Nicole Randall,
Writer: Brett Carlson
Cast: Brian Graves, Elizabeth Kimball, Isaac C. Singleton Jr., Edward E. Cohen, Katie Newcom, Matt Andrew, Hayes Hargrove
A married couple intending to hire a gigolo to save their stale sex life mistakenly hires a hitman in this dangerous comedy of errors.
TENDER ROOTS
USA, 4:55 MIN, LA PREMIERE
Director: Matt Brailey
Producer: Matt Brailey
Writer: Christine Madonia, Mark Wahl
Cast: Celeste Santiago, Alex Parker
Lloid has always had problems connecting with his peers. Now with prom coming, this may be his last opportunity to make that connection. All he needs is the date.
SOME BOYS DON'T LEAVE
USA, 16:10 MIN
Director: Maggie Kiley
Producer: Jason Potash
Writer: Matthew Mullen, Maggie Kiley
Cast: Jesse Eisemberg, Eloise Mumford,
Some Boys Don't Leave is the story of what happens when the break-up happens but the break does not.
---
Program #11 - The Perils of Travel

TUE 30, 9:30 pm, Regency 5, (TRT: 92:14 min)

The Last Page (21:00)
Dir. Kevin Acevedo
Culebra (15:00)
Dir. Sean Carter
London Transfer (21:00)
Dir. Roozbeh Behtaji
Mind the Gap (7:14)
Dir. Shaun Majumder
The End (28:00)
Dir. Eduardo Chapero-Jackson

THE LAST PAGE
USA, 21 MIN
Director: Kevin Acevedo
Producer: Matt Akey
Writer: Kevin Acevedo, Matt Akey
Cast: Andrew Burlinson, Megan Cavanagh, Mek DeCarlo, Wilton Godfrey, Mekenna Melvin, Michael Rivkin, Emily Rose
A tortured author struggles to overcome writer's block and is propelled into a bizarre series of events.
CULEBRA (SNAKE)
USA, 15 MIN , WEST COAST PREMIERE
Director: Sean Carter
Producer: Michael Fiore
Writer: Sean Carter
Cast: Vanessa Hidalgo, Carlos Linares, Marcos Akiaten
A pregnant Mexican woman follows a shady human smuggler into an underground border crossing that goes terribly awry.
MIND THE GAP
CANADA, 7:14 MIN, WORLD PREMIERE
Director: Shaun Majumder
Producer: Michael Corbiere
Writer: Shaun Majumder
Cast: Kumar Pallana, Shelby Fenner, Lindsay Reader
When a sexy, beautiful young woman sits next to a sweet elderly man on a train, the ride is anything but boring.
THE END
Spain, 28 MIN
Director: Eduardo Chapero-Jackson
Producer: Pepe Jordana
Writer: Eduardo Chapero-Jackson
Cast: Samuel Roukin, Natalie Press, Ewan Beatie, Charlie Creed Miles, Elieen Walsh, Evie Duncan, Miguel Ángel Silvestre
A middle class American family must fight for survival in a nation being torn apart by the lack of water.
---
Not in programs

3 THINGS
USA, 24:35 MIN, WORLD PREMIERE
Director: Gary Ravenscroft
Producer: Charlie Capen, Jenny Good, Karen Lavender, Rachel Jackson
Writer: Charlie Capen, Rachel Jackson
Cast: Charlie Capen, Rachel Jackson, Michael Raymond James
A visual mix-tape about love, following two remarkable characters who meet each other at the precise right and wrong moment of their lives.
---
USA, 2:13 MIN, WORLD PREMIERE
Director: Alicia Arinella, Diana Witten
Producer: Alicia Arinella
Writer: Philip Kain
Cast: Jessica Arinella, Matthew G. Rashid,
Dating is difficult, especially when you order in. 'Kung Pow Wow' is comedic tale about an argument between a couple when the boyfriend isn't sensitive to the needs of his girlfriend's taste buds.
---
THE PACKAGE
AUSTRALIA, 3:21 MIN, WEST COAST PREMIERE
(Trailer | Website)
Director: Oliver Waghorn
Producer: Tim Anderson
Writer: Tim Anderson
Cast: Justin Hosking, Liza Catherine-Dennis, Murray Sestak
The Package is the story of Dave and Lisa. They are breaking up for the last time. It seems Dave is having trouble with any sort of real commitment. After Lisa storms out Dave receives a Package in the mail. Inside is a VHS tape which, when played, holds the key to Dave's future.
---
RAMPAGE SUPERSTAR
Director:
Producer:
Writer:
Cast:
---
THE RESPONSE
USA, 14:22 MIN, LA PREMIERE
Director: Andrew Spieler
Producer: Marina Stabile
Writer: Andrew Spieler, Marina Stabile, Julia Norwich
Cast: Valarie Pettyford, Stephen Snedden, Kami Jones, Kiev Rhyse, Alex Castillo
In the early hours of the 1992 LA Riots, Shauna, a seasoned African-American paramedic is forced to confront an incensed and dangerous mob after her idealistic white partner, Rick, violates protocol in hopes of saving a severely wounded child.